Mango Pressroom
Descargar fotos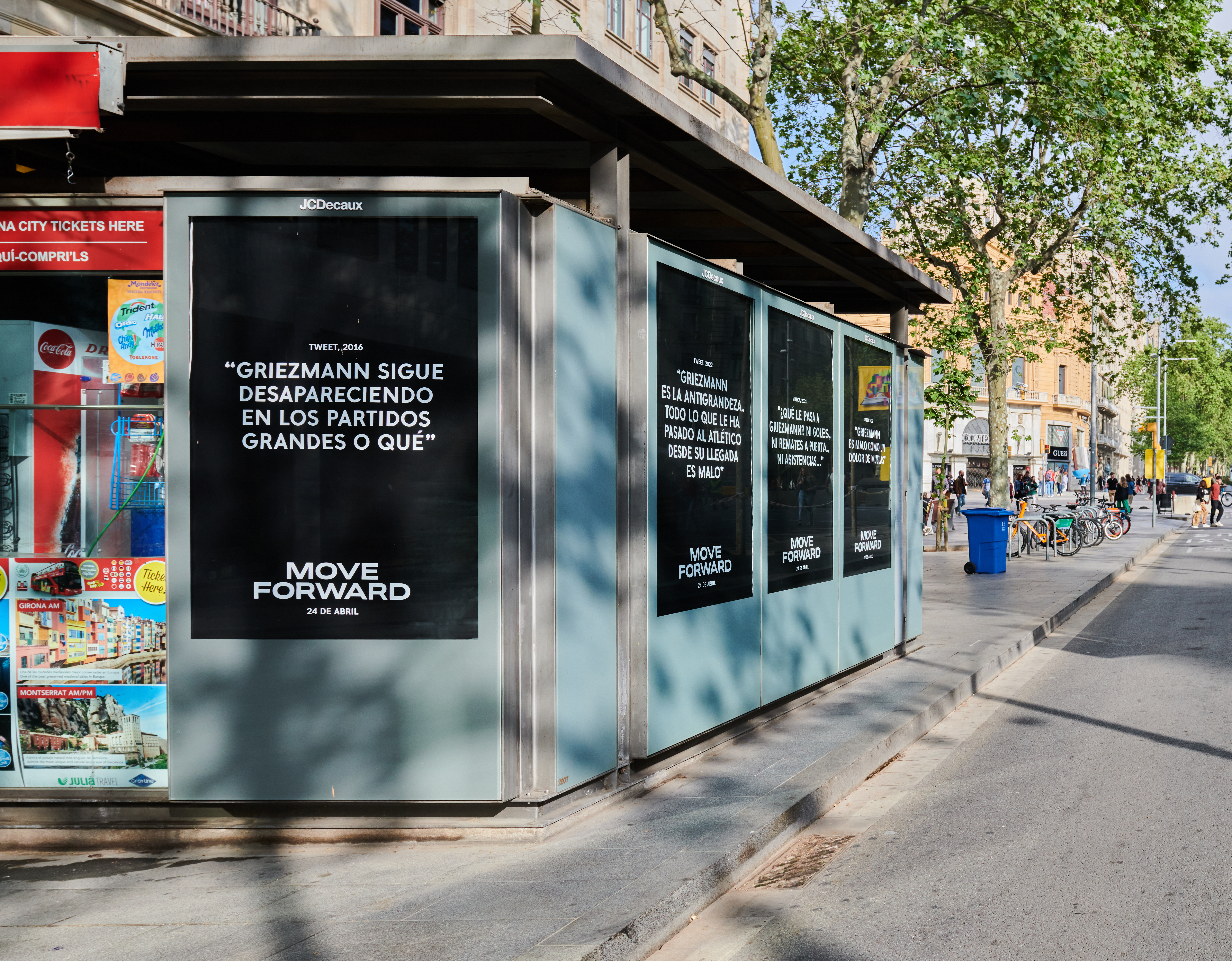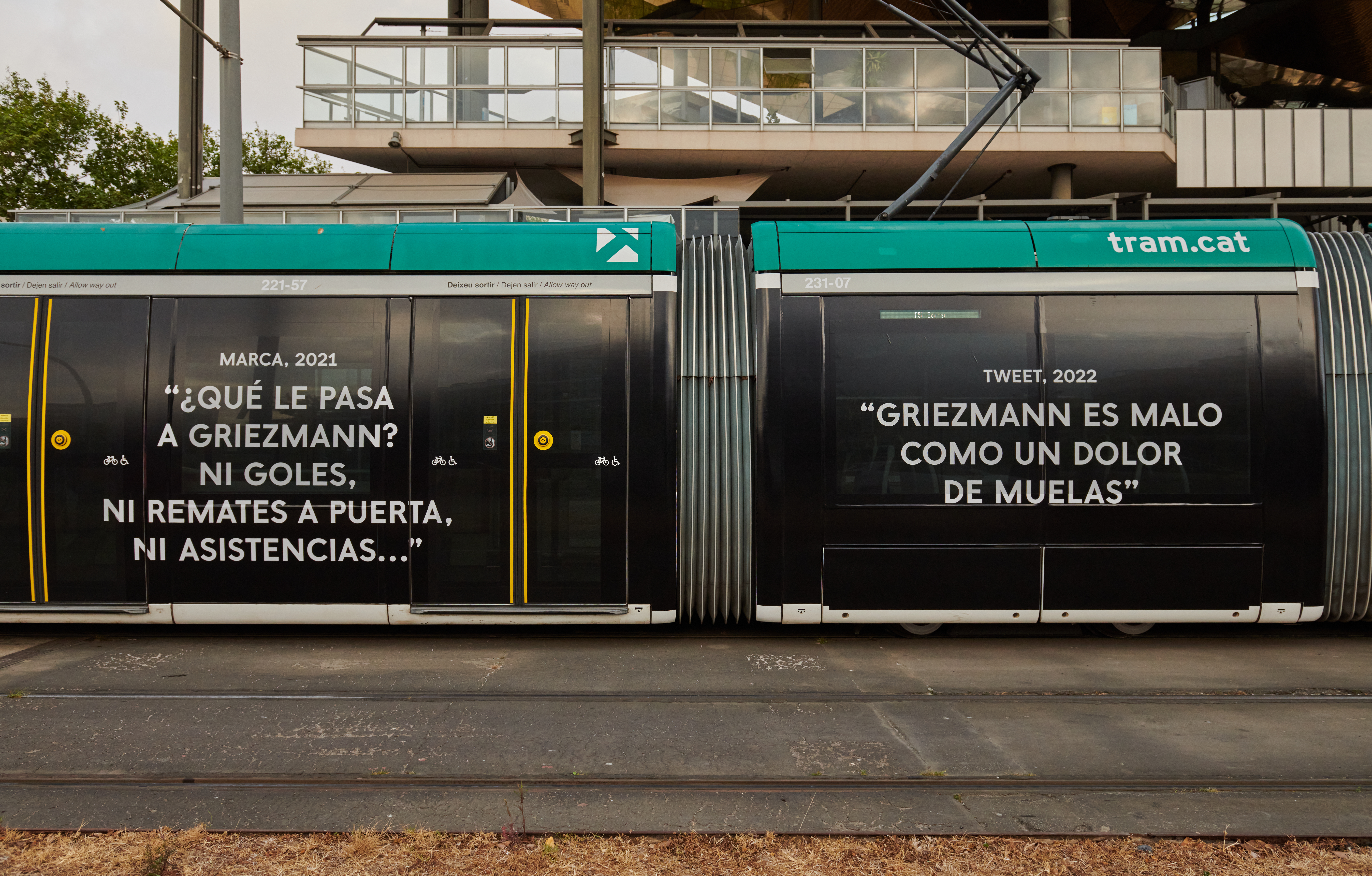 3 photos in total
0 selected photos
3 photos in total
Mango Man once again joins forces with Antoine Griezmann to present 'Move Forward', its new brand concept
Barcelona and Madrid have woken up to billboards and canvases with criticisms about the footballer, taken from actual publications in the media and on social media, accompanied by the message Move Forward, generating expectation about the purpose and authorship of this action.
Mango Man is the driver of this campaign, which it is using to launch Move Forward, the brand's new concept based on overcoming challenges, which features Antoine Griezmann as its ambassador.
The Mango menswear line and the French footballer wish to highlight the importance of not giving up and of overcoming adversity and criticism in order to achieve one's goals, from minor everyday aims to major challenges like the ones achieved by Griezmann.

The cities of Barcelona and Madrid have woken up today to billboards and canvases with criticisms about the footballer, taken from actual publications in the media and on social media. In all of them appears the message Move Forward, without any trace of the authorship of the initiative, generating expectation about who is behind it and what the aim is. Now, Mango Man has solved the mystery: it is an action to launch its new brand concept, Move Forward, based on overcoming challenges.

For the campaign, Mango Man has once again joined forces with Antoine Griezmann to highlight the importance of not giving up, of overcoming adversity in order to achieve one's goals and dealing with problems and difficulties that cross one's path in life, such as criticism, underlining how this has become a constant in our society, even in moments of success. To achieve this, Mango Man uses the example of Griezmann, who became a World Cup winner in 2018, and a World Cup runner-up in 2022, in which he played a key role in the French national team. The footballer's spirit of achievement has been the force that has allowed him to overcome the different obstacles that have crossed his path during his career, both personally and professionally.

In the words of Antoine Griezmann, "Move Forward is an expression that represents my life and connects me to Mango Man, its values, its style and the characteristics of its garments". He also pointed out that in difficult moments he has never given up: "After falling down, I have always got back up again, I have tried again and I have had the determination to look forward and pursue my next goal".

Pilar Riaño, Mango's Director of Communication and Institutional Relations, points out that "Griezmann is a global sporting icon and an example of resilience who has overcome difficulties and criticism throughout his career. He is the perfect ambassador to illustrate the spirit of achievement of Move Forward ". And she adds: "This new brand concept reflects the essence of Mango Man in accompanying the contemporary man in his daily challenges so that he can achieve the best version of himself and what he wants, thanks to garments with technical or improved properties".

The Mango menswear brand has a clear vocation to innovate in the fashion industry, distancing itself from classic and rigid stereotypes. Since 2014, Mango Man has incorporated technical or improved characteristics in its garments, first in sportwear, before transferring this technique to everyday garments. Its innovations include Travel Suit, a collection that features resistant and flexible fabrics that prevent suits creasing and keep them impeccable all day long.

Mango Man has based this new campaign on showing the actual negative comments the forward has faced throughout his career, also to underline how criticism has become a constant in our society, in any situation and even in moments of success. The action displays media headlines and tweets such as "Griezmann is as bad as toothache" in various locations, such as a huge canvas on Madrid's Gran Vía and on the tram network in Barcelona.

As a boy, a Griezmann was told that he would never be a professional footballer. During his adolescence, several French football clubs turned him away for being too short, negative aspects that did not deter his passion for football. This setback caused him to move to Spain, away from his parents, to start a new life from scratch in order to pursue his dream.

He has not had it easy: he has been criticised and booed by fans. However, he has never given up and has managed to become a global sporting icon. He was the maximum goalscorer in the 2016 Eurocopa, and won the Europa League and the World Cup, both in 2018, as well as the 2021 UEFA Nations League. He is also involved in numerous charity causes, such as the NGO, Un Rien C'est Tout, and causes such as LGTBIQ+ rights and gender equality in sport.

As part of this campaign, from 21.00 today, videomapping projections will be broadcast with a video that will be broadcast initially in emblematic locations such as Paseo del Born and Avenida Josep Tarradellas, in Barcelona, and in Paseo de la Castellana and Segovia and San Millán streets, in Madrid.


Griezmann, the face of the Spring/Summer 2023 season

As part of the collaboration between Antoine Griezmann and Mango Man, the footballer is the face of the new Spring/Summer 2023 season. Griezmann will present the line's new trends.

The collaboration between Griezmann and Mango Man dates back to March 2022, when the company signed the footballer to become the brand's image for its spring/summer 2022 season, an alliance that was subsequently renewed for the autumn/winter season of the same year, and which has now been renewed again.

Founded in 2008, Mango Man has evolved to become a leader today in innovation at competitive prices. Supported by the online channel to reach urban customers in every corner of the world, Mango Man integrates the updated codes of a new masculinity.

The Mango menswear line has more than 650 stores in over 90 countries, as well as an online presence in over 75 markets. Mango Man has previously counted on major talents in its campaigns, such as Gerard Piqué, Zinedine Zidane, Adrien Brody and Andrés Velencoso.

The Mango Man collection for Spring/Summer 2023 has been created around versatile garments that can be worn at various occasions: the proposal is strongly aimed at the man who travels and needs pieces that adapt to his pace of life and offer him style and comfort. Relaxed-silhouette tailoring, summery shirts and Saharan jackets achieve the perfect look for the warmest season.

Linen and knitwear take centre stage in the collection and are accompanied by other fabrics such as seersucker, poplin and TENCEL™ linen, a fibre that offers a more adaptable and even more fluid fit than traditional linen. With regard to colours, the base of neutral, green and brown tones is enriched with a more summery and festive colour palette, featured in a broad selection of shirts, suits, knitwear and trousers. To accompany the journey, the collection includes an accessories proposal that includes sandals and comfortable espadrilles, rucksacks and travel bags.

About Mango
Mango, one of Europe's leading fashion groups, is a global company with design, creativity and technology at the centre of its business model, and a strategy based on constant innovation, the search for sustainability and a complete ecosystem of channels and partners. Founded in Barcelona in 1984, the company closed 2022 with a turnover of 2.688 billion euros, with 36% of its business originating from its online channel and with a presence in over 115 markets. More information at mangofashiongroup.com
Para más información, contactar con
Discover the latest in Mango