Mango Pressroom
Descargar fotos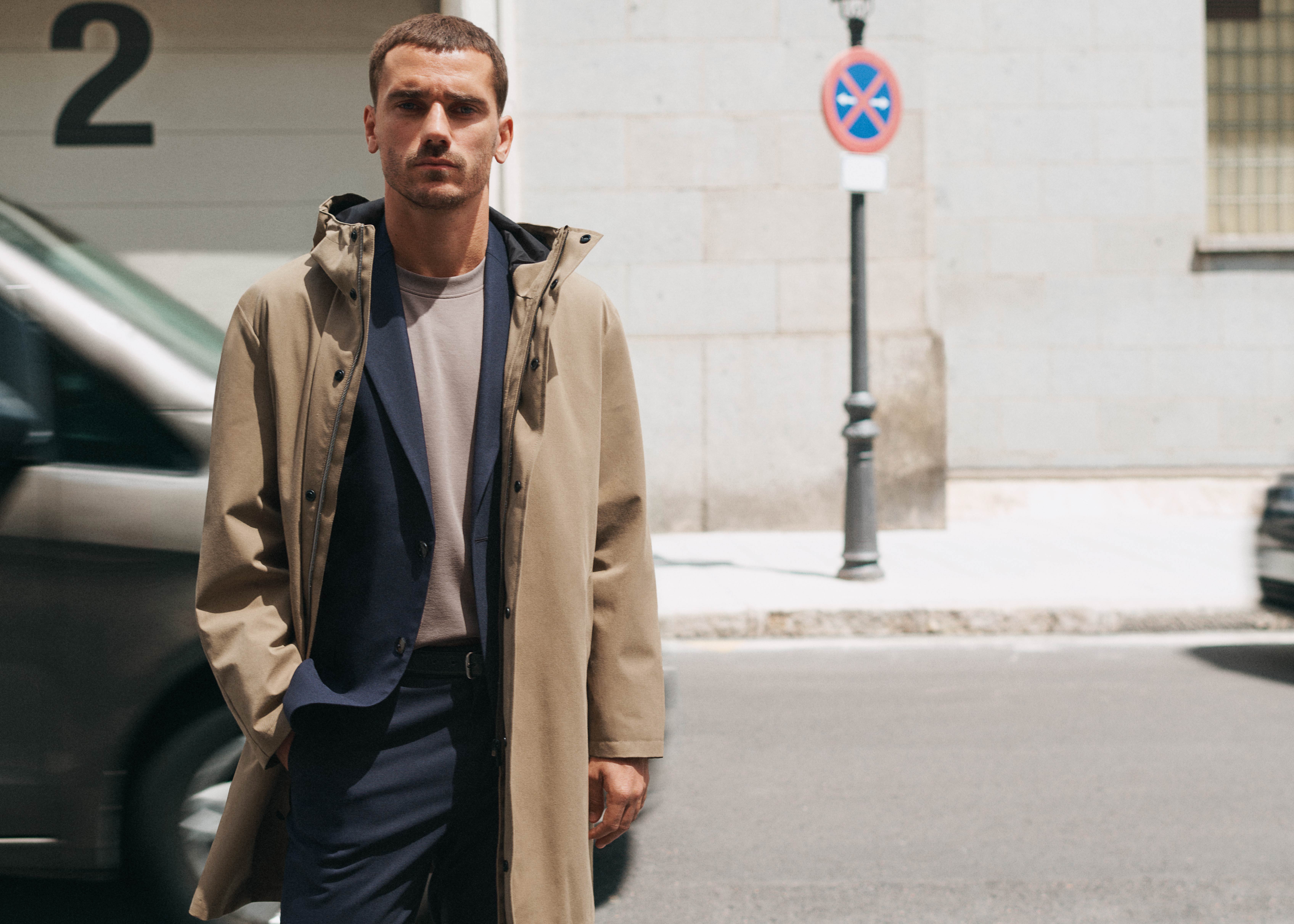 1 photos in total
0 selected photos
1 photos in total
Mango Man presents, with Antoine Griezmann, the new Autumn/Winter 2023 campaign with this season's Performance collection
The football player, and Mango Man ambassador, has once again been chosen by the brand to present its new products and a continued commitment to the 'Move Forward' slogan that the line launched last April.
The Performance collection includes urban smart garments with technical features in everyday designs.
Mango Man has chosen to present its collection in an innovative way: with the help of the 3D avatar of Antoine Griezmann himself.

Mango, one of Europe's leading fashion groups, presents, with Antoine Griezmann, its new autumn/winter 2023 collection of the Mango Man line.

The French striker is a global sports icon at the highest level, whose resilience and winning spirit has made him the perfect partner to represent Move Forward: the philosophy that the line is promoting to highlight self-improvement. With it, the company wants to emphasise the importance of not giving up and of pushing yourself to achieve your goals and overcome the problems and difficulties that you encounter throughout life.

Mango Man's autumn/winter 2023 collection follows this concept. Although invisible to the naked eye, the technology of the garments offers a new way of experiencing the environment. The Performance collection includes technical features such as wind insulation, comfort and stretch, and crease resistance, which are undoubtedly an advantage when faced with the small challenges of everyday life.

Built around versatile garments that make up a great basic wardrobe, and can be worn on multiple occasions, it is aimed at the active and curious man who needs pieces that suit his pace and provide style and comfort. It is a timeless collection inspired by minimalism and includes garments made with exceptional materials and qualities.

Cashmere jumpers, gilets, parkas, suits in neutral tones and leather ankle boots. A functional capsule made up of urban smart garments, creating a wardrobe that will stand the test of time.

Mango Man is committed to presenting its autumn/winter 2023 collection, both in e-commerce and in selected physical stores, with the technological innovation that it embodies: with the help of a 3D version, both digital and physical, of Antoine Griezmann himself.

In the brand's e-commerce we see the footballer rendered in a 3D avatar, along with the details and technical features of each garment. In addition, mannequins in the likeness of the footballer can be found in the following physical stores: Passeig de Gràcia 29, Barcelona; Serrano 60 and Preciados 8, Madrid; 711 Fifth Avenue, NY; 229-235 Oxford Street, London; Galleria del Corso 2, Milan, Boulevard Haussmann 54, and Rivoli 82, Paris; and Praça dos Restauradores, Lisbon.

Move Forward, the essence of Mango Man

Move Forward reflects Mango Man's intention to accompany the contemporary man in his daily challenges, so that he can achieve the best version of himself and what he wants, thanks to garments made of technical materials with special qualities.

Mango Man uses the example of Griezmann, whose spirit of self-improvement has been the force that has allowed him to overcome the different obstacles that have crossed his path during his career, both personally and professionally.

The Mango menswear brand has a clear vocation to innovate in the fashion industry, distancing itself from classic and rigid stereotypes. Since 2014, Mango Man has incorporated technical characteristics in its everyday garments.

The line has more than 650 stores in over 90 countries, as well as an online presence in over 75 markets. Mango Man has previously featured major talents in its campaigns, such as Gerard Piqué, Zinedine Zidane, Adrien Brody and Andrés Velencoso.
About Mango
Mango, one of Europe's leading fashion groups, is a global company with design, creativity and technology at the centre of its business model, and a strategy based on constant innovation, the search for sustainability and a complete ecosystem of channels and partners. Founded in Barcelona in 1984, the company closed 2022 with a turnover of 2.688 billion euros, with 36% of its business originating from its online channel and with a presence in over 115 markets. More information at mangofashiongroup.com
Para más información, contactar con
Discover the latest in Mango